Everything you need to know about driving your bicycle!
This booklet was created specifically to help familiarize law enforcement officers with portions of the Florida vehicle code that relate to two-wheeled human-powered vehicles. Included are motor vehicle responsibilities related to sharing the road with bicycles.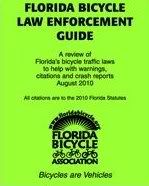 Club rides should be enjoyable and safe for all participants. Each of us should be role models for other roadway users. Groups cyclists are typically the most visible members of the cycling community—we can be billboards for exemplary behavior, or we can reinforce the stereotypes that cyclists are scofflaws. The impressions our actions leave on the motorists we encounter has a tremendous effect on cycling advocacy.
For copies contact:
Florida Bicycle Association | P.O. Box 718 | Waldo, FL 32694
phone: 352.468.3430
fax: 352.468.3430
e-mail
PSAs on DVD
for Group Riding.