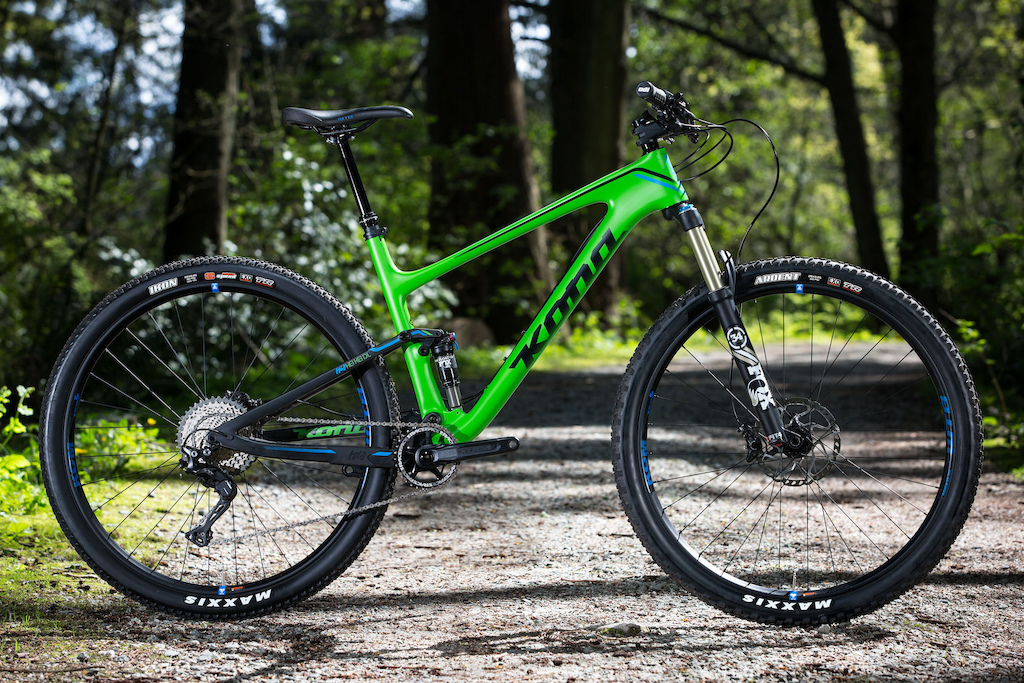 Cross-Country Gets Rowdy
by
Vernon Felton
Kona gave the 29'' wheeled Hei Hei a complete makeover for 2016—transforming the bike from a dedicated cross-country racer to a surprisingly capable, 100-milimeter travel trail bike that can still toe the line at XC races, but is actually fun to ride on just about any trail. What you're looking at here is the next step in the evolutionary process—a completely carbon version of the Hei Hei. Kona's calling the $4,699 Hei Hei DL an early 2017 release, but it should hit streets in the USA, Canada, and Europe this May. For readers in mainland Europe and the UK, expect to see this in stores for €4,999 and £3,999 respectively.
Though the name on the top tube says Hei Hei DL, if you look closely you'll see this bike is more like a composite version of the 2016 aluminum Hei Hei DL Trail, a slightly hopped up model sporting a longer, burlier (120mm-travel Fox 34) fork, wide bars, dropper post… all the things that make riding a bike fun. Kona will also offer a slightly skinnier version (the $4,199 Hei Hei Race DL) in Europe. That bike will run a more traditional XC-flavored wardrobe that will include a 100-millimeter travel fork and lighter wheels.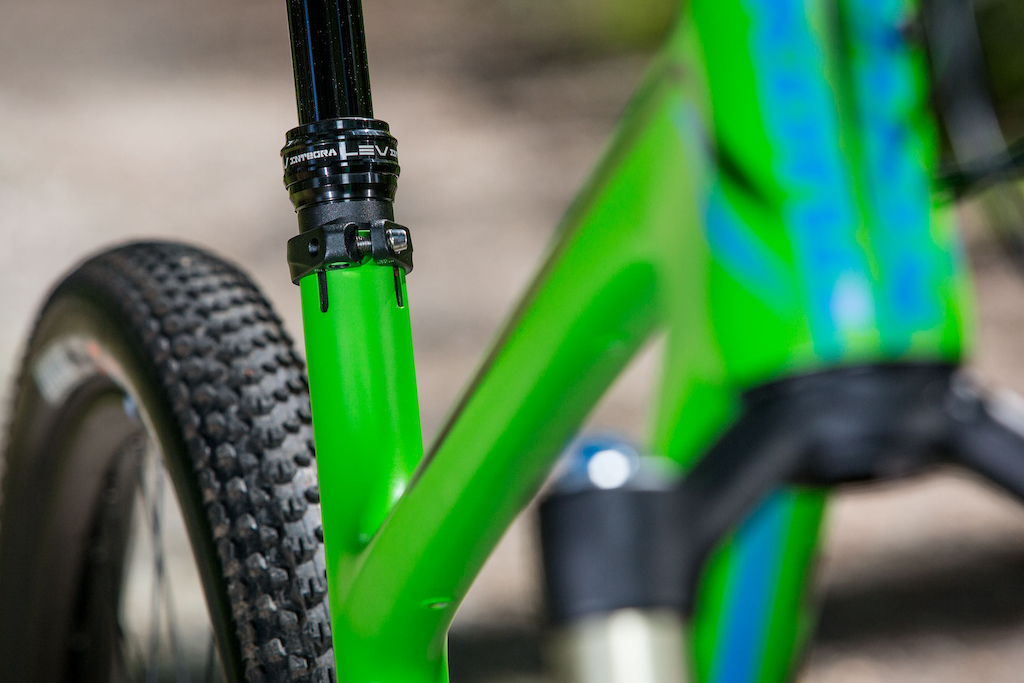 Lean, Mean Machine
The new Hei Hei resembles a sort of simplified version of the Process 111, with its slack (for XC, at least) geometry, generous standover clearance, long front center, short chainstays, etc. The rear suspension on these bikes, however, is a much lighter, simpler affair than what you'll find on Kona's Process models. Kona calls it their Fuse Independent Suspension, but marketing nomenclature aside, it's a rear flex pivot. The big-picture goal here was to create a lightweight 29er that's efficient under pedaling loads, yet is based around a geometry and suspension tune that also enables the bike to be pushed hard in challenging, rugged terrain. Think of it as a more capable and versatile flavor of cross-country.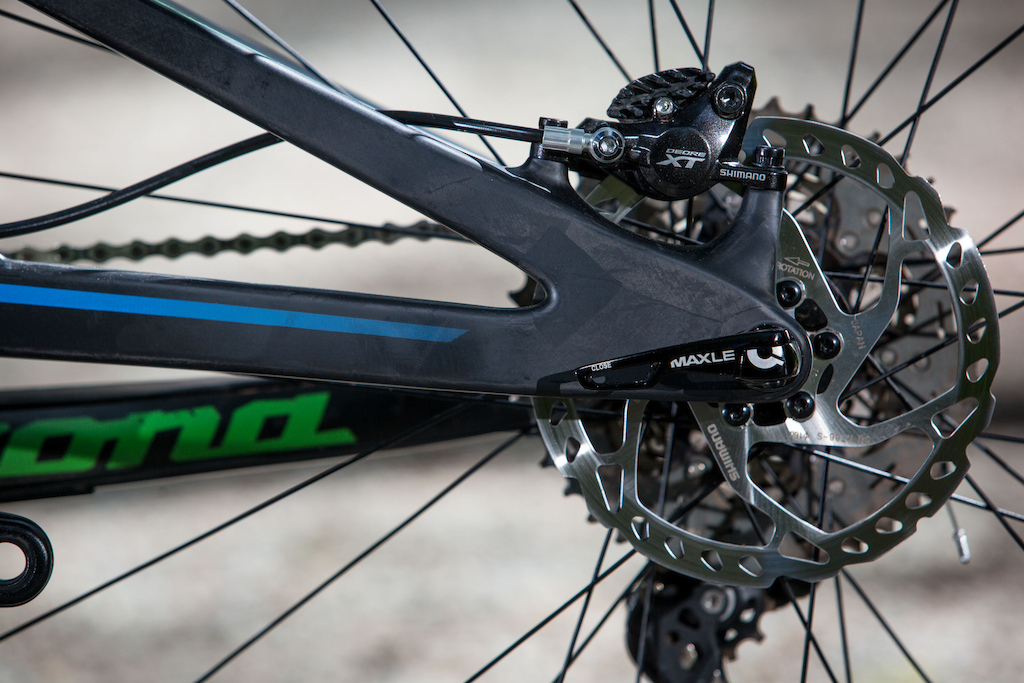 So what's actually new here? As with its aluminum cousin, the carbon Hei Hei DL sports a 120-milimeters of front suspension reverse-mulleted to 100-millimeters out back.The geometry also stays the same--you're looking at a 68-degree head angle, 74-degree seat tube angle, 429-millimeter (16.9-inch) chainstays, and (on a size large) a 1158-millimeter (45.6-inch) wheelbase. At the risk of flogging a dead horse some more, the clear and obvious upgrade here is that the Hei Hei DL sports an entirely carbon frame. Weight savings here (over an equal-sized aluminum version) is about 1.5 pounds. In other words, a good chunk lighter. Kona claims, however, that the decision to make a carbon Hei Hei didn't merely boil down to a desire to whittle weight. They were also aiming to add more stiffness to the overall package. The fact that the bike also sports a Boost 148 rear end and Boost 110 fork doesn't hurt in that regard either.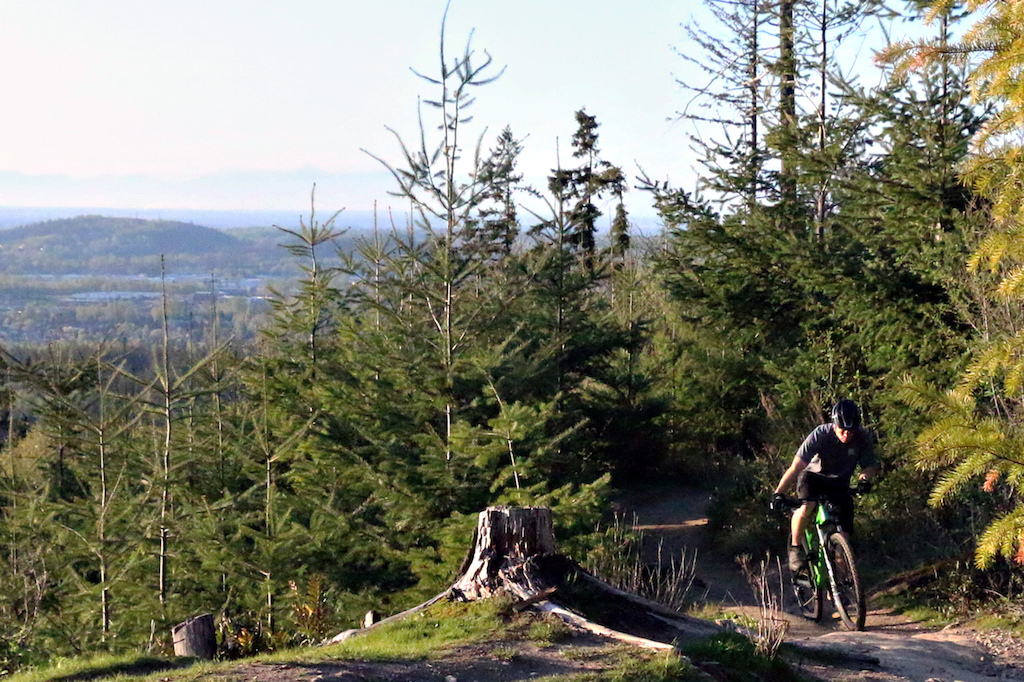 Riding the Hei Hei DL
There are two ways to tackle my local mountain--start on the side of the hill with the mellow fire road climb or start on the other side of the mountain--the side with the punchy single track climb. Since I was riding a bona fide XC bike, I broke tradition and went for the steeper, more technical single track climb. Weighing in at 12.51 kilos (27.6 pounds), you can guess how this 29er climbed--it climbed briskly. I wouldn't trot out the "like a billygoat" or "scalded monkey" cliches, but if you are struggling on this bike, it's not the Kona's doing. The Hei Hei DL doesn't squat horribly when run with the rear shock wide open, but getting into the spirit of the thing, I did futz with the blue lever a bit--I rarely felt the need to use the climb setting, the middle "Trail" compression damping setting offers a decent balance of get-up-and-go and grip and that's where I'd run it the vast majority of the time as traction suffers significantly when you've switched the Fox rear damper into its most-aggressively damped "Climb" mode.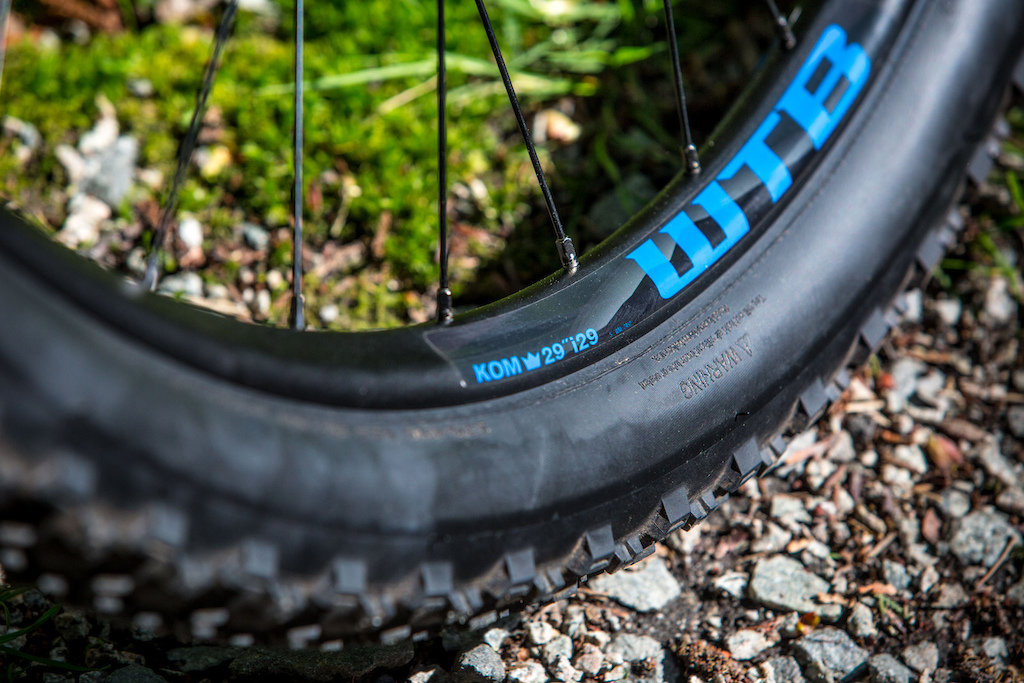 The Hei Hei DL is shod with a 2.2'' Maxxis Ardent tire up front and a 2.2'' Ikon out back. Totally appropriate for the application, but I was quickly pushing the tires past their limits and wishing I had the 29 x 2.4 Ardents on board.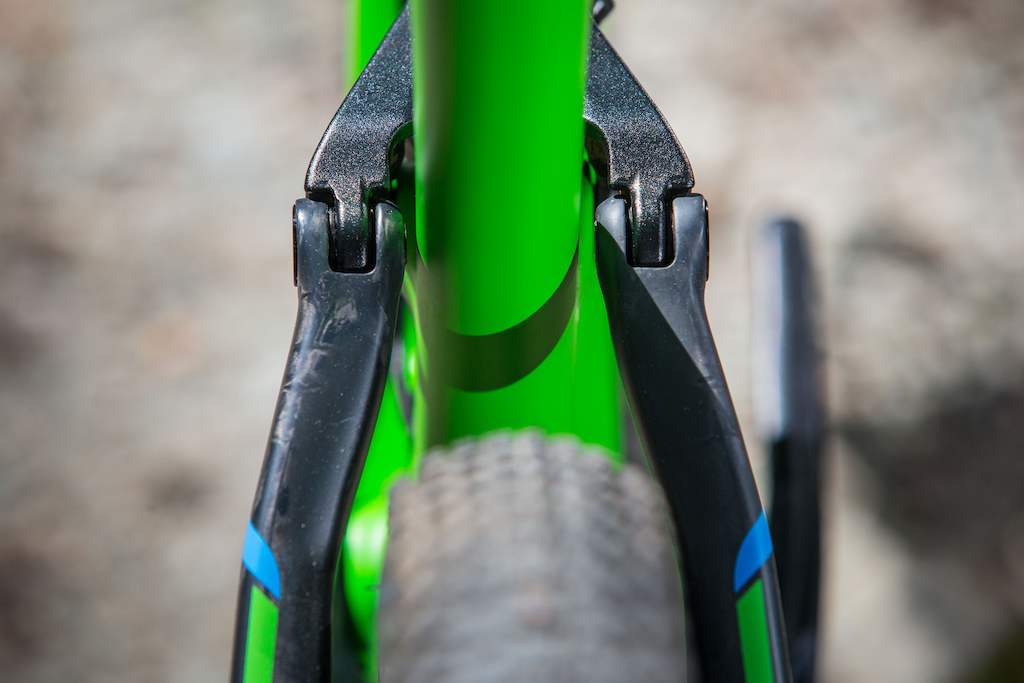 Fortunately, there's plenty of room here to move on up to the beefier treads the bike deserves.
To be honest, I'm re-reading that last paragraph, and it just feels like the obligatory kind of crap that you trot out about a cross-country bike. I mean, it's true and all, but while the Hei Hei DL climbs well enough, it absolutely shines on the descents. There are, of course, other cross-country bikes that are capable on downhills. I'm not talking about "capable", I'm talking about something more akin to "ripping" or "shredding" or whatever it is when you are making monkey sounds and you might be drooling because you are having far more fun than you expected to have at the outset.
Let's be clear--this is not an all-mountain bike by any means. It may even ramp up a bit too quickly to be a dedicated trail bike for the masses. But, man, you can push the hell out of the Hei Hei DL. In the process, you can get away with all sorts of crap that you have no right getting away with when riding a bike that harbors only four inches of rear suspension. I was soon taking the Kona on all the same trails that I normally reserve for all-mountain bikes. You have to be on your A-game, sure, because you run out of suspension quick, there's no denying the simple math there, but the Hei Hei DL is far more composed and planted than it should be.
Mainly, I was left wanting to ride the bike more. Since Kona just brought the Hei Hei DL out of it witness-protection program, I've only got a handful of rides on the thing.
How does the bike fare over the long haul? That's the real question. Stay tuned for a long-term review.